Hoop Drum – Free Ableton Impulse Kit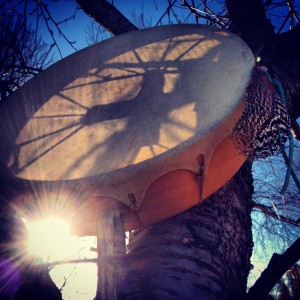 The hoop drum (or frame drum) is one of the most culturally widespread forms of percussion. It takes form as the bodhran of Ireland, the daf of Iran, the bendir of Morocco, and the kanjira of India. The one we recorded for this Impulse kit is a traditional Native American one from Taos, New Mexico. Sometimes called a buffalo drum due to the customary use of buffalo hide, the Native American style hoop drum is often made of deer skin, like this one.
Why Impulse instead of a drum rack? Well, drum racks are awesome…but Impulse is simple to set up, and offers one or two cool features that are more complicated to set up with a drum rack. For one thing, there's a "one knob" global tuning. Here's how that can be useful: unlike a drum set (where one pad is kick, one is snare, another is cymbal, etc.), our Impulse is set up so that each pad is a different articulation of the same drum, i.e., one pad is hit in the center, another is toward the edge. With global tuning, you can create a pattern and then pitch the whole thing up or down to fit better in your mix.
Back to the articulations…the first six pads are hits on different areas of the drum head, which you can use to create patterns of subtle complexity. Pads 7 and 8 are hits with the stick against the rim.
Impulse doesn't allow for velocity mapping, like Sampler does. But, its low pass filter does have velocity sensitivity, so you'll notice the Hoop Drum Impulse will have that little extra bit of realism from the filter frequency increasing as you hit it harder.
Take this drum for a spin and let us know what you think!
Demo tracks:

Please enter your e-mail address for your free download:
Tags: Ableton, drums, ethnic, free downloads, Impulse, Live Packs, percussion